The Corvallis-to-the-Sea Trail Partnership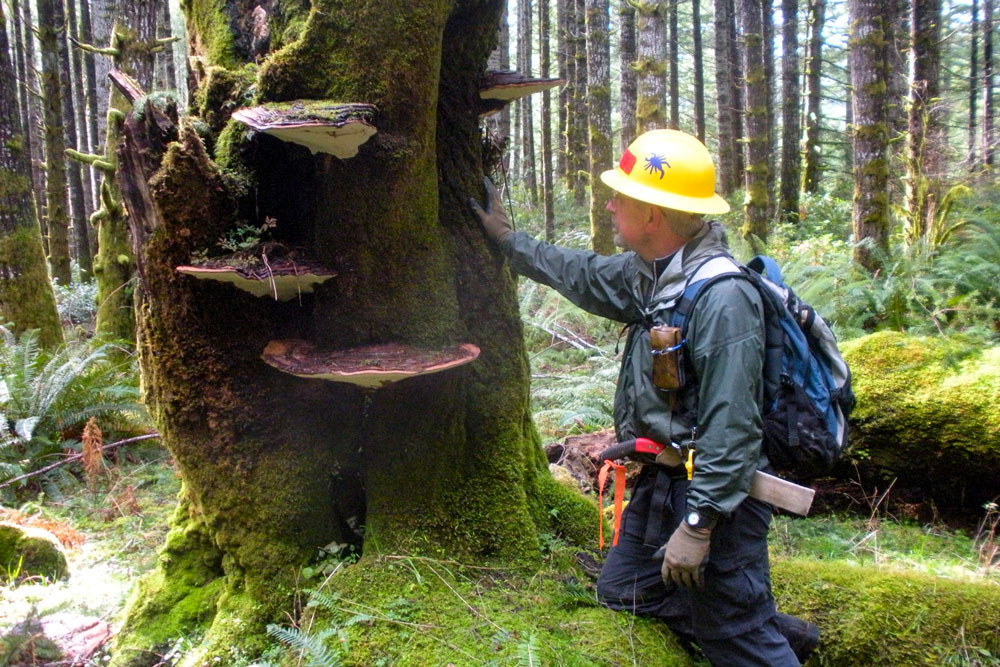 The Corvallis-to-the-Sea Trail (C2C) has been a dream for almost 50 years (see our History), and has become a reality through the hard work and dedication of many people. It's now one of 15 Oregon Signature Trails. The nonprofit C2C Trail Partnership was formed in 2003. Since then its volunteers have averaged more than 2,500 hours per year to make the C2C Trail dream a reality. Volunteers have explored more than 300 miles of possible trail routes, constructed new sections of trail, brushed abandoned road corridors, weeded out invasive species, installed trail signs, and donated equipment, tools and other materials. The Partnership plans and coordinates trail work, obtains approval from landowners and agencies, and works to recruit and train volunteers who can help maintain the trail. The Partnership also occasionally leads day hikes along the route.
The C2C Trail Partnership is a collaborative grassroots effort consisting of individuals, businesses, and organizations of local, regional, and national scope. Cooperation has been, and continues to be, a core value in working with others to make the envisioned trail a reality.
Current members of the board of directors of the C2C Trail Partnership:
Gary Chapman, President
Bob Rogowski, Vice President
Merlin Ebert, Secretary
Louise Marquering, Volunteer & Communications Coordinator
Rollie Bowers
Linda Brodeur
Ed Fox
Caroline Garcia
John McNair
Joshua Soderlund Hough
Ken Ward
Larry Weymouth
Previous board member volunteers have included:
John Aylmer, Dick Beemer, Joyce Canan, Jerry Davis, Jim Golden, Ken McCall, Denise Nervik, Kirk Newburgh, Ron Post, Mike Saslow, Sha Sifford, Paul Smith, and Olaf Sweetman. 
Key landowners cooperating in partnership to make the trail possible:
Benton County
City of Corvallis
Corvallis Watershed
City of Philomath
Golden Ponds Timberlands Inc.
Hancock Forest Management
Hitselberger Ranch LLC
Lincoln County
Nestucca Forests LLC
Oregon State University's College of Forestry
Pacific Forest Trusts
Starker Forests, Inc.
Stokes' Timberlands
Trout Mountain Forestry
USDA Siuslaw National Forest
Van Eck Forest Trust
Weyerhaeuser
Over the years, other helpful participation has come from:
CH2M Hill Inc.
Corvallis Trail Riders
Greenbelt Land Trust
Marys Peak Group of the Sierra Club
Northwest Youth Corps
Oregon Parks and Recreation Department
Oregon Equestrian Trails
Peak Sports
Scouts BSA
South Lincoln County Committee on Trails
Yaquina Wheels Bicycle Club
Technical advice and training has come from:
Cascade Volunteers
National Coast Trail Association
National Park Service Rivers & Trails Program
Pacific Crest Trail Association
Trail Keepers of Oregon
We also recognize the support from businesses provided by their advertising on this website and in our publications. Thank you!
Long-Term Volunteers:
Thank you to everyone who has volunteered time and labor toward establishing and maintaining the C2C Trail. We particularly wish to recognize those who have contributed 10 or more days of on-trail work:
| | | |
| --- | --- | --- |
| Aaron Nicholson | Jean Frederickson | Kirk Newburgh |
| Bruce Martin | Jennifer Carper | Louise Marquering |
| Curt Peterson | Jim Golden | Paul Smith |
| Dan Carper | John Aylmer | Rollie Bowers |
| Denise Nervik | John Criscitiello | Ron Post |
| Ed Fox | John McNair | Sally Shaw |
| Ed Llewellyn | John Nervik | Tom Bucht |
| Gary Chapman | Joyce Canan | |
| JC Chen | Ken McCall | |
Current Trail Section Adopters:
Segment
Surveyor, Maintainer
Corvallis Riverfront to Old Peak Road
Lisa Ronay (survey only)
Old Peak Road
Marcella & Mark Henkels
Andrea & Mike Heidinger
Lower North Ridge Trail
Theo Dreher
Connie Bozarth
Woods Creek to Shot Pouch Trail Road
unassigned
Sugar Bowl Creek
Ken Ward
Van Eck Road
Gary Chapman
Craig Chapman
Grant Creek
Steve McLay
Hogback
Branch Creek
Karin Krakauer
Tim Stewart
Bullrun Lower
Lindsey Trempler
Bullrun Upper
Gopher Ridge Road Upper
Aileen & Scott Frey
Gopher Ridge Road Lower
Jen & Will Allender
Gopher Creek
Jennifer & Dan Carper
FS 3127
Tommy Swearingen
Palmer Mountain West & FS 5083
Jim Golden
FS 5081 & Wright Creek Water Trail
Dawn & Terry Pavitts-Ryan
Hitselberger East & Peterson Creek
Ditzie Chicks
Connie Atkinson, Leader
Hitselberger West, Hancock, Weyerhaeuser
Ginger Gouveia
Jeremy Robinson
---