The C2C Trail is open for hiking year-round unless special or temporary restrictions are imposed by the US Forest Service or private land owners. Because of concerns regarding wildfire, nesting birds, spawning fish, and logging operations, portions of the trail may be temporarily closed at any time.
Before planning and starting out on your adventure, check here for temporary closure information and other advisories for your safety and enjoyment.
"Perfect Storm" Timing, i.e. lots of closures.
Managed forests have life-stanza cycles. Thus, commercial forests are usually harvested when they are merchantable and the market dictates. Other management choices may dictate periodic thinnings for income and the health of the remaining forest. The C2C Trail sees a full spectrum of these management styles on all the lands it crosses, both private and public. We appear to have opened the complete trail at a time when many of the forests the trail passes through are ready for full harvests or thinnings. Please be patient with trail closures and observant of the need for extra caution if passage is allowed during operations. We'll try to identify periods when the full trail may be used. More C2C Trail users do shorter outings and these can be undertaken somewhere along the route at any time. Be aware that dates for future closures and operations are tentative and can change.
Temporary Closures:
West End Hiking Trail Closure – The hiking trail is closed starting May 1 between mile 55 at Wolkau Road and mile 58 at North Beaver Creek Road for a Weyerhaeuser logging operation. These operations are dangerous and we close the route as part of our agreements with landowners. It's a working forest, at play with the C2C Trail. Play fair, trail users and let them do their work. This operation is slated to last well into June with a finish date uncertain. Stay off of this section of the route until we announce it is open again. This closure does not affect the bicycle route on North Beaver Creek Road.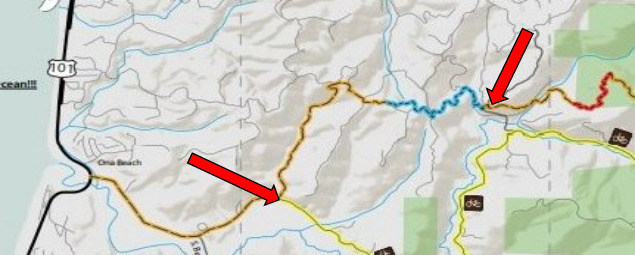 Potential closures of the Simpson Creek area west of Wolkau Road have been communicated by Weyerhaeuser. In addition to the above, two others may be from August 15 – Dec 31.  That leaves an unconfirmed open window of July 1 – August 14.
Standing Closures and Advisories:
C2C trails west of Big Elk Campground are closed to bicycles year-round, although old roads are legal for bicycles and horses. East half trails are open to bicycles, between May 16 and October 15. Open to bikes during these dates is 1.5 miles on the Sugarbowl Creek section west of Shot Pouch Road and the 2.2 mile lower section of the North Ridge Trail paralleling Woods Creek Road (no horses). There is no detour for bikes around the Sugarbowl Creek closure. Note that most of the C2C Trail was not built to bicycle or horse standards and the open roads are not particularly horse-friendly. Regardless, for almost all road sections, including decommissioned Forest Service roads, bicycles and horses are legal
For all users, there is a standing closure with detour from November 1 to February 28 near Gopher Creek where the trail crosses a small tributary of the creek. The 2-mile detour around the 1-mile closure is made to protect the fish habitat and the adjacent wetland. The trail user who needs to by-pass the Gopher Creek Trail segment during the seasonal closure can continue up FS road 3125 to FS road 31 (Hilltop Road) and go west on FS road 31 to once again hit the regular trail route.
Several parts of the trail follow roadways open to the motoring public year-round, and which are regularly or lightly used. When using these roads, always be alert for cars, trucks, and other users.
As always, an eastern section of the trail around Marys Peak requires a permit from Starker Forests. See details on our Permit Page. Carry this permit with you when hiking through forest land.