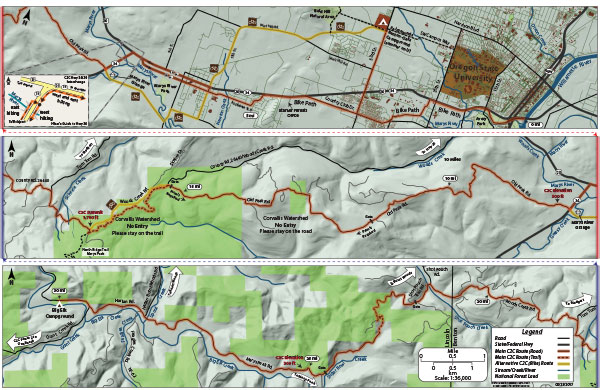 Trail Maps
The C2C Trail map & guide is sold at the following locations: Corvallis: Bike & Hike, Corvallis Cyclery, Peak Sports; Philomath: Bicycle Stage One, Soft-Star Shoes; Newport: Bike Newport, Newport Chamber of Commerce; Salem: Salem Summit Company.
Those who don't reside near a map outlet can obtain a map by mail for $10. The process is as follows: Request the map by emailing corvallistothesea@gmail.com. You will then receive an email giving you the address to submit your check. When the check is received you will be mailed the map.
Updated Maps for each half of the C2C Trail can be downloaded and printed soon. An older, partially out of date map (below) is available as a PDF for the eastern half of the trail here.